Farmers Lizi Clubley and George Grant voted 'Britain's Sexiest'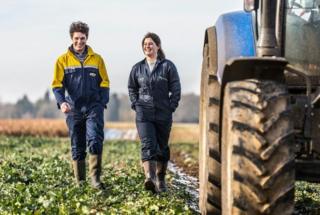 Two farmers have been voted the sexiest in Britain in a competition run by a weekly magazine.
Lizi Clubley, 27, who works on a farm near Skirlaugh in Yorkshire, said the best thing about winning was getting two pairs of boots as a prize.
George Grant, 20, who farms with his father near Market Rasen in Lincolnshire, said he was surprised to win after his girlfriend nominated him.
More than 300 people entered Britain's Sexiest Farmer 2015.
More than 15,000 votes were cast in the competition, which was run by Farmers Weekly.
Miss Clubley said: "I think overalls can be a bit sexy, and there's something sexy about driving a tractor. I think it's the command of the tractor cab.
"You've got that sort of empowerment as you're bombing along."
Miss Clubley said winning had boosted her confidence.
"To get in the top five was like winning it in itself, just to be representing Yorkshire," she said.
Her old boots were so old she had to put carrier bags in them to keep her feet dry.
"The new boots are better than winning the competition," she said.
"They're good because they are so warm, they're a really good make of boot."
Farmers Weekly hopes the competition has debunked stereotypes about farming, and will inspire other people to pursue careers in agriculture.
Mr Grant said he does not think he is very sexy.
"I don't really fancy myself," he said.
His girlfriend, Lucy Johnson, said: "He's oblivious to it. People come up to him on nights out and he doesn't realise that they're trying to chat him up, it's funny.
"Everyone says he's got a nice jaw line. When one of my friends met him on a night out she was like, 'oh my god his jaw is amazing'."