Lincoln City fan pays £200 'fair price' for ticket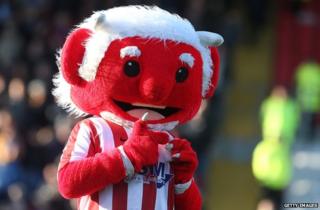 A Lincoln City fan willingly paid £200 to see his team play when people were asked to pay what they thought was a "fair price" for Saturday's game.
The club's home attendance increased to 4,568 - almost double the season's average of about 2,500 - because of the "Name Your Price" promotion.
The minimum people could pay was £1.
Earlier this month the club announced it could be forced to sell its property assets in order to pay back £380,000 to the Co-operative Bank.
The man who paid £200 for his ticket has asked not to be identified or publicly acknowledged.
Russell Moore, the club's commercial manager, said: "He's a big fan and not a really wealthy man. It was his way of saying, 'We want to support you'.
"There were a fair few people who paid over the ticket price. A lot that came and paid the correct price. It was great to have that many people in and we hope they come back."
Match day tickets at Sincil Bank usually cost £18 for adults, or £16 for early bird tickets.
Mr Moore said many people paid £5 and £10 to see Saturday's match, which saw The Imps lose 0-1 to Chester City.
Pop group Madness announced this week that they will start their outdoor tour at Sincil Bank on 29 May.
The football club expects to make a profit from this, despite previously losing money when it hosted a Westlife concert.
Earlier in February, chairman Bob Dorrian said in a letter to shareholders the Co-operative Bank wanted to end its relationship with the club as soon as possible.
The club said it would not have to sell Sincil Bank but that even selling its other property assets could leave it in financial trouble.
Lincoln City appealed to fans for help and invited supporters to apply for shares for as little as 50p to raise funds.