Drainage boss calls eel protection scheme 'too costly'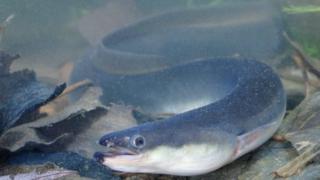 The cost of protecting migration routes of eels through Lincolnshire's waters is "prohibitive", it has been claimed.
Upgrading two large pumping stations to comply with new EU regulations would cost £20m, according to Witham Fourth Internal Drainage Board.
The board's annual budget is £2.3m, so the work would cost about 10 years of income, director Peter Bateson said.
The EU regulations came into force last month to protect eel stocks, which have fallen 95% since the 1980s.
The number of European eels has declined due to migration barriers as well as overfishing and loss of habitat.
Eel screens
"Any structure that impedes passage of eels or fish must comply with regulations starting on 1 January, but many larger stations have been given a five-year exemption so solutions can be considered, " said Mr Bateson.
He estimates work at the pumping stations, to include the erection and maintenance of elaborate screens to protect the eels, could stretch as far as £20m.
"It is a rather large sum - we have a capital budget but we don't have anywhere near that figure," he said.
"Before we invest any significant sum in eel protection, we need to look at the sites and how they interact with eels.
"We are working with Hull University [to see how eels interact with the pumping stations] and should get some results later in 2015."
He said the drainage board, one of 13 in Lincolnshire, has already been given a £100,000 grant from Defra to deal with eel compliance.
"We will support any final solution that complies with the regulations ... but at the moment the cost is prohibitive.
"The smaller boards cannot afford the cost so it would inevitably have to come out of the public purse."
An Environment Agency spokesman said: "Where higher costs are involved sites will be given longer to complete the work."