Lincolnshire farmers urged to tackle grey partridge decline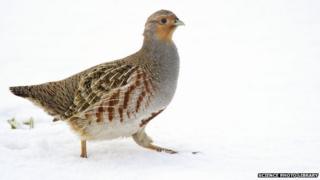 The decline of one of the UK's most endangered birds could be slowed if more farmers take part in an annual count, a conservation trust has said.
Grey partridge numbers have dropped by 86% in the last 40 years, according to the Game and Wildlife Conservation Trust.
The trust wants more farmers to take part in its annual count scheme.
Lincolnshire, the trust claims, is likely to have more grey partridges than anywhere else.
Dr Roger Draycott, from the trust, said: "We would really like to at least double the number of farmers and gamekeepers returning their spring and autumn count details.
"This information helps us to assess the population more accurately."
He said Lincolnshire had great potential because of its extensive farmland.
'Indicator of health'
Currently, 42 county farms are taking part in the scheme.
Farmers have been invited to attend a conference about the scheme at Riseholme College, near Lincoln, on Wednesday.
A decline in insects is believed to be the reason for the birds' decline.
Robin Battle, who is involved in the count on his farm in Potterhanworth, just outside Lincoln, has also been convinced by the trust to grow fields of plants aimed at encouraging insects.
"We are quite keen to see grey partridge numbers recover," he said.
"They're a very good indicator of the health of the countryside.
"If you see and hear other grey partridges about, it probably indicates that others species are prospering."