Lincoln City FC launches Dambusters mosaic appeal to pay off debts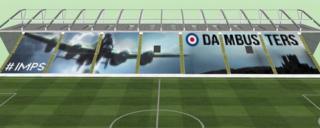 A football club is attempting to pay off its debts by asking fans to sponsor the creation of a giant Dambusters mosaic made from seats.
Lincoln City FC needs to pay back £380,000 it owes the Co-operative Bank after the debt was called in.
The club hopes to raise funds by selling pieces of the mosaic over a crowdfunding website.
The artwork, which shows a Lancaster bomber and Lincoln Cathedral, is made up of 5,681 individual pieces.
The cost of the scheme is estimated to be about £100,000, with the club hoping to raise the majority of the funds it needs to pay its debts from the appeal.
Prices start at £40, rising to £250 for special sections, with donors receiving incentives, such as an invitation to be part of a team photo when the mosaic is completed.
Managing director Kevin Cooke said: "The inspiration came from Preston North End, where they have a mosaic of Tom Finney - we looked at that as a concept and thought it was a great idea."
"We wanted to do something that represented Lincoln and the county - rather than honouring past footballers."
He said: "The Dambusters are part of our heritage and this is our attempt to reach a wider audience and take it to people outside of football,"
"It has to be spectacular - we really do need to capture people's imaginations," he added.
The Conference side claims a long association with the Dambusters 617 Squadron, which was formed at nearby RAF Scampton to attack dams in Germany's Ruhr Valley.
It said the Dambusters March is played before kick-off at every home game and there is a room at the club's Sincil Bank ground named in honour of the squadron.
An air raid siren also used to be sounded when the team was given a corner kick.
Lincoln Cathedral was used by many bomber crews as a beacon to let them know they had returned home safely.