Welton homes plan will 'double' village size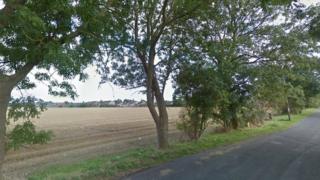 A development of 350 homes on the edge of a Lincolnshire village will completely change its character, an MP has said.
West Lindsey District Council approved the plan, which would roughly double the size of Welton, on Wednesday.
Conservative MP for Gainsborough Edward Leigh said it would add an "extra burden" to schools and other services.
The authority has ordered developer Beal Homes to pay £1.3m towards education and healthcare facilities.
'Beyond acceptable'
In a statement to the council's planning committee the development, Mr Leigh said it would "completely change the character of Welton as well as adding an extra burden onto services, schools and shops".
"The size and scale of proposed development is completely beyond what is acceptable," he said.
West Lindsey District Council gave outline planning permission for the development off Prebend Lane on the condition a quarter of the homes were affordable.
It also stipulated the applicant must contribute £1.2m towards education provision and £150,000 towards health care provision on the site, after a Section 106 agreement.
The authority's chief operating officer, Mark Sturgess, said the development should be "welcomed" as it would help West Lindsey meet its five-year housing target.
No one from Beal Homes was available for comment.