Lincoln Castle revamp work adapted after bat discovery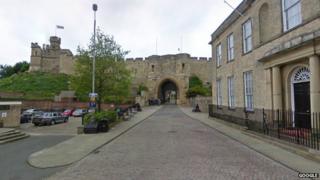 Part of a medieval castle has had to be specially adapted after bats were found living on the grounds.
The animals - which are protected by law - were discovered during a £22m renovation of Lincoln Castle.
The castle has been closed since December while a new vault for a copy of the Magna Carta is built.
Lincolnshire County Council said it wanted to make sure the bats' feeding runs were conserved and the animals were not disturbed.
Jon Hogan, events manager at the castle, said it was unclear which species of bat is residing in the castle, and their exact number.
'Bat hotel'
"It was not completely unexpected.
"Bats and old buildings seem to be synonymous and we too have a bat population at the castle."
---
Bats and the law
It is against the law to
Capture, kill, disturb or injure bats - on purpose or by not taking enough care
Damage or destroy a breeding or resting place - even accidentally
Obstruct access to their resting or sheltering places - on purpose or by not taking enough care
Possess, sell, control or transport live or dead bats
Offences carry a maximum six-month prison term and offenders can be fined £5,000 for each offence
Source: Natural England
---
Mr Hogan said efforts had been made not to disturb the bats while work went ahead, and the location of their roosting site would be kept secret.
"We've had to preserve dark spaces along their feeding run and indeed their roosting site as well," he said.
"They are residents here... they're happy, we've got a bat hotel."
Lincoln Castle will re-open with a high-security underground vault, where an original copy of the Magna Carta will be displayed.
The four-year project draws to a close on 1 April 2015, when the castle re-opens.