'World's oldest shire horse event' looks to increase interest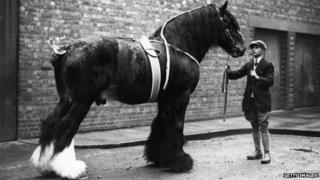 An event celebrating the history and heritage of shire horses is aiming to raise awareness of the breed in a bid to secure its long-term future.
The Shire Horse Society is staging the show in Allington, Lincolnshire.
It aims to mark the breed's unique history and promote interest in the "gentle giants".
About 300 entrants from across Europe are taking part in the competition on Saturday and Sunday - billed as "the biggest and oldest in the world".
The event was first held at the Royal Agricultural Hall in Islington, north London, in 1880, when the Shire Horse Society was named the English Cart Horse Society.
The society, of which the Queen is a patron, said the annual show played an important part in promoting the breed, which up until a few decades ago was in danger of dying out.
Secretary David Ralley-Davies said the event was the main showcase for the society and was a vital part of keeping the plight of shire horses in the public eye.
"It's about maintaining the gene pool and getting new people involved," he said.
He added that shire horses were still popular with small brewing companies and were being increasingly used for recreational riding.
Fewer than 500 foals are registered with the society each year, although it says progress is being made thanks to events and campaigns.
---
History of shire horses
Horses have been domesticated for thousands of years, although it is not clear when they were first used in agriculture
By the 14th Century horses had become more common, and were used for pulling carts and transporting goods
Advances in breeding methods during the 17th Century - prompted by an increased demand for travel by coach - led to the breeding of a large powerful horse, with the capacity for speed
The "modern breed of shire" came to the fore in the 18th Century, alongside advances in farming technology
From a peak in numbers at well over a million, numbers dropped to a few thousand in the 1960s
Shire horses were also used to pull heavily-laden barges along canal networks, as well as hauling large wagons, drays and trams
Modern farm machinery and the arrival of the railways are two of the main reasons given for the demise of the breed
Source: The Shire Horse Society
---