Travellers set up camp on banned Skegness car park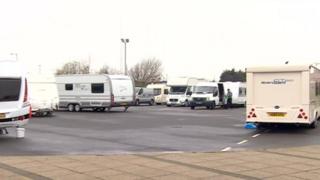 A group of travellers set up camp at a bus station just days after a council put up barriers to stop them accessing its car parks.
Height restriction barriers were installed at six car park entrances in Skegness to prevent caravans from entering.
But 12 caravans and several other vehicles appeared on the Richmond Drive coach park overnight on Thursday.
East Lindsey District Council said it would take legal action if needed.
Mayor George Saxon said he appreciated there were no official traveller sites in the town but the Richmond Drive coach park was "inappropriate".
He said: "We are not anti-traveller, although it does appear we are, but we are a family resort and the sea front car parks are not the place for them."
Last summer, 80 caravans and 100 other vehicles parked up on a seafront car park over the Easter Bank Holiday weekend.
The Gypsy community criticised the use of the barriers and said they could make the situation worse.
Ryalla Duffy, of the Lincolnshire Gypsy Liaison Group, said the authority should instead make more effort to address the shortage of temporary sites.
A council spokesman said it had warned the group to move on.
"Failure to do so will result in formal legal action," he said.