Skegness illuminations sold for more than £30,000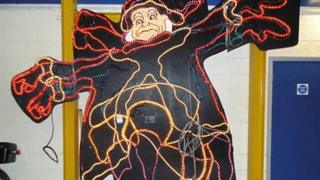 Nearly 200 items from the famous Skegness illuminations have been sold at auction for more than £30,000.
After years of greeting visitors in the resort and nearby Mablethorpe, they have been replaced by displays owned by a private contractor.
East Lindsey District Council said the new contract would cut the current £100,000 costs by half.
The collection had included two statues of Skegness mascot the Jolly Fisherman, but they were withdrawn from sale.
They have been donated to the community.
The lot included giant gingerbread men, two 10ft (3.04m) stripy cats and a Jolly Fisherman light display.
Paul Cooper, from CJM Auctioneers, said they had received "tremendous interest" from a variety of people.
The highest bid item was a set of six foliage displays, sold for £1,340, while the lowest, various spares and repairs lights, sold for £10.
"We have had interest from providers of illuminations, people who restore vintage illuminations and sell them, and collectors," said Mr Cooper.
"One lady drove 50 miles just to look at the illuminations because she could remember them when she was a kid on holidays to Skegness."
More than 150 people from across the UK and Europe had registered their interest to buy the items on Thursday morning ahead of the online auction.