Lincoln alcohol centre could close amid funding row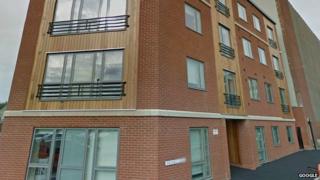 A "lifesaving" alcohol support centre could close six months after it opened.
Charity Framework, which runs the Corner House in Lincoln, said the county council was withdrawing funding.
But the authority said, while it gave money to start the project off, it had no responsibility to continue to fund it.
A user of the residential centre for people with chronic alcohol problems, including street drinkers, told the BBC it saved her life.
The Corner House opened in Friars Lane in November as a centre to treat people with long-term alcohol dependencies.
Residents are referred by partners, including the NHS, GPs, housing providers and the criminal justice system.
'Visible problem'
Framework services director, Lisa Del Buono, said there was an "implicit understanding" the council would continue to contribute to the service.
"These individuals aren't some cosy little client group who haven't had very many problems," she said.
"We are talking about the poster boys and poster girls for street sleeping, street drinking and anti-social behaviour, which is very prominent in Lincoln.
"This is a service which is making a very big difference for a perpetual problem, a very visible problem, on the streets of Lincoln."
---
'Project saved my life'
After Mandy's relationship broke down, six years of alcohol abuse led to her sleeping rough.
"When I went into there I was at death's door," she said. "I don't think I could have done another year on the street, especially with the lifestyle I was living."
"I would have been dead had I not gone into the Corner House."
She said it was "huge shock" that the centre could close: "We are so disappointed nobody else will be able to benefit from what it's done to us."
---
Dr Tony Hill, director of public health for the county council, admitted it was a "useful function", but said it was not the authority's responsibility to fund it.
"We gave them some funding to start it off to help them while they looked for other funding," he said.
"With the sort of austerity, the financial position, councils find themselves in, we are not in a position to carry on with that funding."