Police Facebook selfie goader jailed after Lincoln police hunt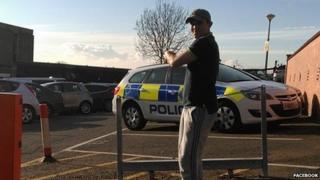 A man who taunted police on Facebook by posting selfies during a hunt for him has been jailed after admitting two offences.
Aaron Bee hit the headlines last year after posting photos of himself outside a police station in Lincoln.
Bee, 22, of Lamb Gardens, St Giles, previously pleaded guilty to breaking a non-molestation order and a charge of assault by beating.
He was jailed for eight months at Lincoln Crown Court.
Bee started goading police by sharing photos of himself on Facebook after an appeal for his whereabouts was released by the force.
He posted a picture of a police officer, captioned: "Hello is it me your looking for" and others of him posing next to force vehicles.
His selfie, with the incorrectly-spelt hashtag #theycarntcatchme, attracted more than 300 "likes" and was shared five times.
In other posts, he wrote: "Anybody have an idea on a new hiding place?" and "Anybody would think iam wanted or something lmao."
He told friends he would "play hide and seek til it gets boring".
Bee was arrested in November and pleaded guilty to two offences dating back to October.
Judge Michael Heath handed Bee an eight month sentence but he is set to be released immediately because of the time he has spent on remand.