Tories could work with UKIP after tie in Boston local elections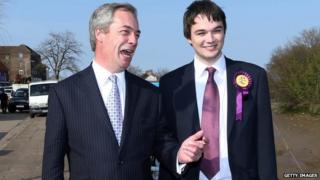 The Conservative leader of a Lincolnshire council said he has not ruled out working with UKIP after both parties won the same number of seats.
Both parties won 13 seats on Boston Borough Council, with Labour and the Independents getting two each.
The parliamentary seat of Boston and Skegness was one of UKIP's targets in the General Election, but the Conservatives held it.
Boston's Tory leader Peter Bedford said it would be wrong to rule anything out.
Mr Bedford said: "We have delivered on all our promises in the last four years and hopefully the existing councillors who aren't UKIP, will support us accordingly."
On whether a deal was possible with UKIP, he said: "It would depend who their leader is and on their thoughts."
He said."It would be wrong to say one way or the other,"
In the parliamentary seat there was a Conservative swing to UKIP of 15%.
UKIP's Robin Hunter-Clarke took 14,645 votes, but Tory Matt Warman held with a 4,336 majority.