Rubel Ahmed: 'No issues' before Morton Hall detainee death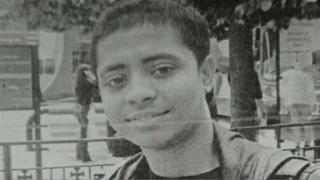 An officer at an immigration removal centre has told an inquest into the death of a detainee that no issues had been raised about his welfare.
Rubel Ahmed, 26, from Bangladesh, was found hanging in his room, at Morton Hall, Lincolnshire, in September.
His death led to a 12-hour disturbance at the facility.
Christine Stewart, an officer at the centre, told Central Lincolnshire Coroner's Court she wished Mr Ahmed had told her something was wrong.
The inquest was earlier told that Mr Ahmed had been informed on 30 August that he was being returned to Bangladesh.
Jurors heard that Mr Ahmed did not seem angry or upset about his deportation.
'Healthy and well'
Ms Stewart worked night shifts at Morton Hall and described to the jury how they carried out regular welfare checks on each detainee by opening the flaps on their room doors.
She said her job was to make sure they were "healthy and well", giving them the opportunity to talk if they are upset.
Miss Stewart told the inquest that when she had looked into Mr Ahmed's room she could not see him and assumed he was in the bathroom.
Later when Mr Ahmed's door was opened they found him.
He was pronounced dead on 6 September.
She told the coroner: "Everybody did everything they could to resuscitate him. I just wish Mr Ahmed had told us something was wrong."
Solicitors acting on behalf of Mr Ahmed's family have raised concerns over the conditions in which he was held before his death.
Morton Hall is run by the Prison Service on behalf of the UK Border Agency.
The inquest continues.