Twyford Wood ravers criticise Lincolnshire Police response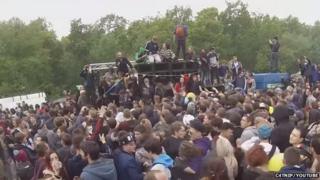 Ravers at an illegal event which saw 48 people arrested have accused police of "provoking violence" which broke out.
Officers came under attack from several hundred of the 1,000-strong crowd at Twyford Wood, near Bourne, on Saturday.
Some who attended have said a "peaceful protest" turned violent after members of the group retaliated against the actions of some officers.
Lincolnshire Police said it was happy its decision to halt the event had been correct.
In total, 21 police officers and a police dog were injured as they tried to clear the site
Bottles and other items were hurled at police and one officer was hit by a car.
Partygoer Ruhi Al-Maghrabi said the event was a regular celebration called UK Technival.
He told the BBC: "All we wanted to do was just have fun and party.
"They were trying to shut it down, then some people retaliated, then the police, I guess, were doing their job but women and kids got crushed in the scuffle.
"I was heartbroken because why would they spoil all these people's fun?"
In comments posted online, police were also accused of wasting resources on the "trouble-free" party.
Some criticised the use of riot shields and batons against "unarmed" people.
Ch Supt Stuart Morrison defended the action after criticism for failing to take strong enough measures at the same site in 2012.
"We are happy that the decision to try and close this event was the right one," he said.
"It was not legal, it was not safe and it caused an inconvenience to people."
Police said the level of violence directed at officers was totally unacceptable.
The Forestry Commission, which owns the site, said unauthorised events leave taxpayers footing the bill for clean-up and repairs.
"This is money which they'd rather use for providing facilities for everyone to enjoy the forests," it said.
Of those arrested, 13 have been charged, with 26 released on bail while inquiries continue. The remainder have been released without charge.
Those charged, who come from Norfolk, Suffolk, Milton Keynes, Warwickshire, Bristol, Hackney and Aylesbury, will appear in court over the coming weeks.