Wigtoft fire 'rips through' house and caravans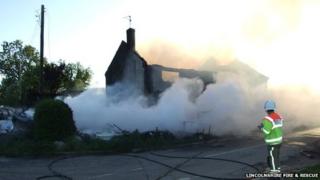 A house, several caravans and three vehicles have been destroyed in a fire near Boston in Lincolnshire.
Crews from seven fire engines tackled the fire at Wigtoft in the early hours of Wednesday morning.
Sean Taylor from Lincolnshire Fire and Rescue said the blaze was intense and "ripped through the property" very quickly.
Two people were rescued from the house. Firefighters managed to save nearby farm buildings.
Mr Taylor said: "It was one of the most significantly damaged properties that I have been to in the 26 years I have been with Lincolnshire Fire and Rescue."