Rescued seal released after cow encounter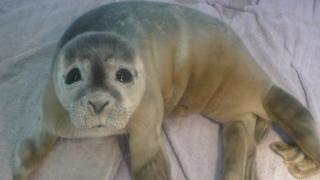 A seal pup which was separated from its mother and ended up surrounded by cows in a Lincolnshire field, has been released back into the wild.
The pup, named Celebration, was found by a birdwatcher at the RSPB reserve at Frampton Marsh, in July.
The harbour seal was the first pup of 2015 to be rescued by staff from Natureland Seal Sanctuary in Skegness.
Duncan Yeadon, from Natureland, said: "She is now nice and chubby and able to face the rigours of the North Sea."
Mr Yeadon said: "When she first came in she was very skinny and exhausted - she had picked up a lung infection as well - so she was very, very poorly.
"But she has responded well to treatment... and has fed like mad," he said.
"She was the first seal in this year, and in such unusual circumstances, so she is very special to us."
The seal pup, which was released along with another pup called Charlie, was named Celebration in honour of Natureland's 50th anniversary, he added.