Hopes for documentary on Alan Wood's 'horrific' 2009 murder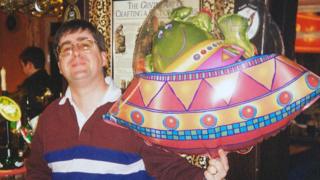 Detectives investigating the brutal murder of a man in a sleepy Lincolnshire village hope a documentary will help cast fresh light on the case.
Alan Wood, 50, was killed in his home in Lound, Lincolnshire, in October 2009 but nobody has been convicted over his death.
He was bound and tortured for a number of days but the killer made off with just a few hundred pounds.
It will feature in Donal MacIntyre: Unsolved on CBS Reality on Sunday.
Mr Wood ran a small gardening business and had no known enemies, Lincolnshire Police said, but he was subject to what they described as the county's most horrific killing.
He suffered a "brutal and sustained" attack, during which he was repeatedly stabbed in the eye and had his throat cut a number of times and an attempt was made to decapitate him.
Clive Driscoll, a former detective chief inspector with the Met Police, re-examined the case for the documentary and described it as "baffling".
"He wasn't an underworld figure or somebody taking part in high levels of crime," he said. "This was a market gardener almost, who was well-liked by the community.
"It struck me that everything felt like this was actually somebody he knew. It's almost as if he willingly opened the door, not believing the danger he was in.
"But then the attack was incredibly frantic and incredibly personal."
He said this indicated he may have known his killer which was an added puzzle for the police.
Manor Lodge, where Mr Wood lived, was kept as a crime scene for two years but has since been demolished.
A spokeswoman for Lincolnshire Police said: "Hopefully this documentary will jog the memory of anybody who was in the area who might have seen anything.
"We would urge anyone who knows something to come forward if they haven't already."