Couple get engaged swimming with sharks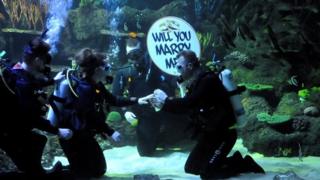 A man took the plunge and proposed to his girlfriend while they were swimming with sharks.
Rebecca May Cressey thought they were just going diving for her birthday, but Steven Purdiew had enlisted Skegness Aquarium staff to help him propose.
Miss Cressey saw a board asking "Will you marry me?" then put her thumbs up to say she would.
The couple, from Somercotes in Derbyshire, now plan to get married in a year or two.
Miss Cressey, who turned 23 on Monday, said: "I suspected something when I saw that my mum and dad were there because I knew they weren't supposed to be there and then I saw them through the glass window.
"I just wanted to cry but I thought I'd best not cry because I was concentrating too much on breathing you see, it's quite difficult."
'Hinting for long enough'
Mr Purdiew, 30, thanked the aquarium staff for helping him propose on Saturday.
"The staff had a board made for us with a question on it because obviously you can't talk very well under the water," he said.
"I thought Rebecca would have said yes because I think she's been hinting for a long enough time."
Neither had scuba dived before, although Mr Purdiew previously rescued a 15-year-old boy from the River Derwent in Derby when he was 18.
Stacy Adams from Skegness Aquarium said: "We were all very excited for them and wish them 'best fishes' for the future."