University of Lincoln uncovers hundreds of 11,000-year-old tools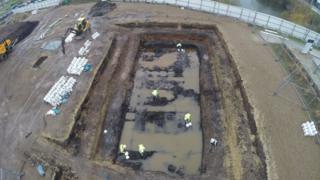 Archaeologists have unearthed hundreds of flint tools thought to be up to 11,000 years old in Lincoln.
The "significant" find, including tiny cutting blades, was made at the University of Lincoln.
The items were found during excavation work being carried out to make way for the new Isaac Newton Building.
Experts say the artefacts - believed to be from the Mesolithic period - were used by people who would come and go to the south of what is now the city.
The Mesolithic period
It is the culture between the Palaeolithic and Neolithic periods of the Stone Age and is also known as the Middle Stone Age
There was a hunter-gatherer culture, but different tools such as the bow and arrow were increasingly used
Burials were in open air cemeteries rather than caves, with people placed alongside goods such as ornaments
The period came to an end with the introduction of farming and agriculture when the Neolithic period began
Early Britons: Have we underestimated our ancestors?
Allen Archaeology Ltd carried out the month-long dig, excavating a 25m by 15m (82ft by 49ft) hole at the Brayford Pool campus.
They said such a large hoard of finds from that era - roughly between 9,000 and 4,500 BC - was rare.
"People were probably hunting game, making these tools into harpoons for fishing but also they were making the tools themselves," prehistoric flint specialist Dr Joshua Hogue said.
"When it comes to lithics, Christmas is always coming early when you've got sites like this."
Project manager, Gavin Glover, said: "The age of these finds means they are not common discoveries and the quantity of material and the information the work will provide is therefore of significance."
The dig has involved excavating nearly 15,000 litres of soil, which has been sieved to recover artefacts, while electronic survey data has been used to document where finds came from.
Once the work is complete, the items will be handed over to The Collection museum.