HLF funding 'game-changer' for Jurassic locomotive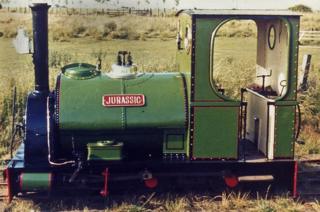 A project to restore a steam locomotive has received a £43,600 Heritage Lottery Fund (HLF) grant.
Once restored, Jurassic, which was built in 1903, will be used to carry passengers on the Lincolnshire Coast Light Railway in Skegness.
Spokesman for the railway, John Chappell, said the funding was a "game-changer" in telling the story of a little known form of transport.
It is expected to be up and running during the 2017 season.
More on this and other stories in Lincolnshire
Jurassic's story will also be told through interpretation boards, leaflets and a video.
The locomotive is in the care of the Lincolnshire Coast Light Railway Historical Vehicles Trust, which was set up 35 years ago to conserve and operate railway vehicles and locomotives associated with agricultural, military and seaside railways.
Mr Chappell said: "[The project] will bring to life the story of how narrow gauge railways were able to reach remote rural areas before roads and modern motor vehicles were developed."
The Jurassic locomotive
Jurassic was built in 1903 by the Bristol company Peckett and Sons for a lime works at Southam in Warwickshire
The locomotive was sold to the Lincolnshire Coast Light Railway in 1961
Jurassic is an 0-6-0 saddle tank (which means she has six driving wheels, with water carried in a saddle-shaped tank over the boiler), and runs on rails 60cm (about two feet) apart
Source: Lincolnshire Coast Light Railway Historical Vehicles Trust