World Egg Throwing Championships held in Swaton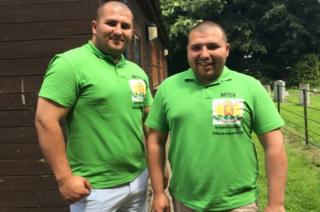 Teams from all over the world are taking part in the 11th World Egg Throwing Championships in Lincolnshire.
Andy Dunlop, president of the World Egg Throwing Federation, said the German team could see their world record throw and catch of 76.73m at risk of being smashed.
But he added the event had not been affected by the EU Referendum.
He said many of the top EU countries "were determined to remain", including the Mitev Boys from Bulgaria.
"We have top athletes taking part in the throw and catch, which is far more skilful than Javelin because no-one bothers to catch that," Mr Dunlop said.
Talking ahead of what he described as a "global event", he said: "This year we have the World Gravy Wrestling Champion and TV star Joel Hicks as target in the Egg Throwing with Accuracy Challenge.
He said Nigel Farage has already been nominated as target man for next year.
Mr Dunlop said Mr Farage was nominated by 48% of those asked, but many more might blame him for "a rotten egg fiasco" come next June.
On EU regulations, he said: "We only use home grown eggs that pass all EU tests, apparently this now includes (according to 52% of users) being past their sell by date.
"However, the other 48% remain unconvinced by this assertion."
The event is part of the Swaton Vintage Day.
---
History and highlights of the championships
---