Thousands attend steampunk festival in Lincoln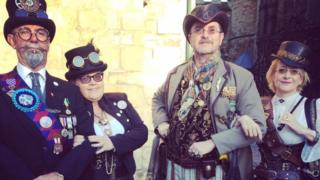 More than 2,000 people have taken part in an annual steampunk event in Lincolnshire.
The three-day festival, known as The Asylum, attracts people wearing pseudo-Victorian costumes.
It is held in the grounds of Lincoln Castle and surrounding historic buildings.
Steampunk has been described as "nostalgia for what never was" and draws on a wide variety of influences from HG Wells to comics.
The festival features a number of events, including Whacky Races - Victorian styled go karts.
Participants can also be seen hurling "polite" abuse at each other as they meet near the city's castle.
Organisers said steampunk takes the Victorian aesthetic and technology, and puts it into a future setting.
However, they said the main purpose of the event was to have fun.