3D printer spark 'may have caused Lincoln magic shop death blast'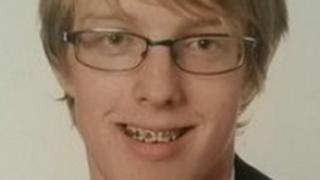 A spark from a 3D printer may have ignited a cloud of hairspray and caused a fire which killed a 17-year-old, an inquest has heard.
Tom Taylor had been using the spray to stick items to the device shortly before the explosion last December.
A spark from the printer or a power supply likely caused a cloud of propane to ignite, Lincolnshire coroner Stuart Fisher concluded.
He said Mr Taylor's death had been a tragic accident.
Eye-witnesses described seeing a "great big ball of flame" engulf the family's magic shop on De Wint Avenue, Lincoln, on 21 Decembe
More on this and other local stories from across Lincolnshire
Lincolnshire Fire and Rescue's Ian Woods told the hearing the teenager had been using hairspray to stick items to a 3D printer, something he had seen online.
He said propane had built up in the small office in which the teenager had been working over an extended period of time.
A spark either from the printer or from an electric supply ignited the propane, causing a flash of superheated gases which resulted in the teen suffering burns to his respiratory tract, hands and face.
He died as a result of smoke inhalation.
Fire chiefs have also warned of the danger of using online tutorials, which are not regulated.
"Unfortunately, in this case, what the video didn't tell him was the material he was using was actually creating a cloud of propane around him," Mr Woods said.