Badger gets stuck in empty swimming pool in Amber Hill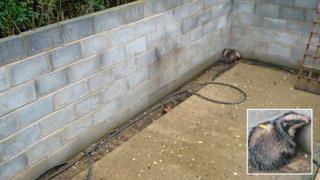 A badger has been rescued after falling into an empty swimming pool and getting stuck.
The RSPCA were called to the stranded wild animal after he fell 5ft (1.52m) into the footings of an unfinished pool near Boston.
Becky Harper, from the charity, said he was "cowering in the corner, bedraggled and shivering", but unharmed.
Staff constructed a wooden ramp from bits of trellis to help the badger find its own way out.
The charity is urging anyone with ponds or pools in their garden to either slope the edge, or have a ramp to allow wildlife to escape.
More on this and other local stories from across Lincolnshire