Violence increases at Morton Hall immigration removal centre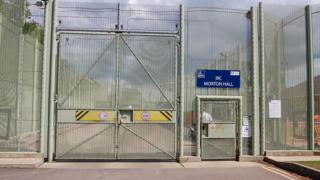 Violence, self-harm and drug use has increased at an immigration removal centre according to the chief inspector of prisons.
The findings follow an unannounced inspection of the 392-room Morton Hall near Lincoln.
Inspectors said there had been a "significant decline in safety" since the last inspection.
The Home Office claimed strategies to reduce incidents of violence were in place and would be reviewed.
Read more about the and other stories from across Lincolnshire
Morton Hall is spread across six residential units and is used to detain asylum seekers waiting for decisions as well as individuals whose asylum claims have failed and are awaiting deportation.
An inspection in November 2016 found the number of incidents of self-harm had risen threefold since the previous inspection in 2013.
The report said: "Many detainees, especially those detained for the longest periods, were extremely frustrated.
"Antisocial behaviour was not uncommon and the number of detainee-on-detainee assaults was higher than in other centres."
'Creditable patience'
Inspectors also expressed concern about drug use and how long people were being detained for.
The Home Office said of the people leaving detention in 2016, 64% had been held for less than 29 days and 93% for less than four months.
Peter Clarke, chief inspector of prisons, said the challenges faced by the centre should not overshadow the "commitment and skill" of staff.
"We saw many examples of extremely positive interactions between staff and detainees, professional de-escalation of potentially violent incidents and creditable patience in the face of the anger and frustration of the detainees," he said.
The Home Office said: "Strategies to reduce incidents of violence and self-harm, and to reduce use of psychoactive substances are already in place and will be kept under constant review."
It added that an action plan was being implemented in response to the inspection.