'Serious concerns' over future health care in Lincolnshire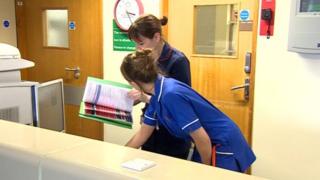 The leader of Lincolnshire County Council has expressed "serious concerns" over a proposed shake-up of health services in the county.
Councillor Martin Hill was responding to the latest draft of the The Lincolnshire Sustainability and Transformation Plan (STP).
He said in its current form it would not work for everyone.
Health bosses said they would consult on the proposals and take feedback into account when making any decisions.
'Nationally imposed solution'
Every health trust in England has been asked by the government to come up with a five-year plan, which includes the reorganisation of all services including hospitals, GP surgeries and social care.
Mr Hill said: "Although we accept and understand the rationale for change within health services in the county, the executive has serious concerns that the proposals in the current STP will not improve services for everyone.
"Making things better for most people, at the detriment of others, is not good enough," he said.
Proposals in Lincolnshire include having fewer acute care hospitals, providing specialist services such as stroke care and maternity.
Mr Hill said: "We would never support just having one centralised maternity service across the county - the geography would not support that."
He added that STPs had all the "hallmarks of a nationally imposed solution across both rural areas like Lincolnshire and urban areas".
"I don't think they be right for both," he added.
Lincolnshire NHS providers need to achieve £130m of savings by 2021, while maintaining health services.
John Turner, Senior Responsible Officer for the Lincolnshire Sustainability and Transformation Plan said: "We welcome this helpful contribution, and look forward to continuing to work with our partners in Lincolnshire County Council on this vitally important work."
A consultation will be held in May.