Wartime RAF bomber being restored in Lincolnshire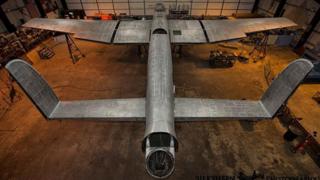 A World War Two aircraft is undergoing a £20,000 repaint as part of plan to restore it to the sky.
The Lancaster bomber "Just Jane" is based at the Lincolnshire Aviation Heritage Centre at East Kirby airfield.
The centre is run by the Panton family who are restoring the aeroplane as a tribute to family member Christopher Panton, who died in a bombing raid over Germany in 1944.
The family hope the Lancaster will be airborne again by 2020.
More on this and other Lincolnshire stories
Museum director Andrew Panton, the great nephew of Christopher, said repainting it was an important part of the restoration project, which is costing more than £3m.
The money for the project is being raised by donations and income generated from visitors to the aviation centre.
Mr Panton said the plane had been stripped back to its aluminium skin to allow a thorough inspection of the airframe.
"It's been about 40 years since the old layer of paint was applied and it's had about six layers on top since then," he said.
"So it's been quite a job getting the old paint off and it'll certainly be a big job getting the new coat on but it's all being done by professionals."
The Lancaster NX611 was built in 1945 and saw service with the French navy.
It eventually wound up as a gate guard outside RAF Scampton near Lincoln before being bought by the Panton family in 1983.