Gainsborough 'tied-up' burglary accused in court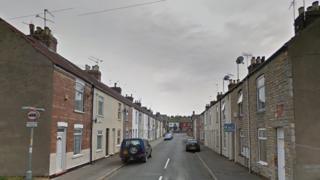 A man has appeared in court in connection with an aggravated burglary where an elderly man was tied up and threatened.
A 75-year-old man was forced to give his bank details after being threatened with a knife during an attack in Gainsborough on Sunday.
Clinton Sentance, 36, from Gainsborough, appeared at Lincoln Magistrates' Court earlier.
He was remanded and is due to appear at Lincoln Crown Court on 19 April.
Lincolnshire Police said investigations into two other incidents in the town are ongoing.
On Sunday, an 88-year-old woman had her mobile phone and £80 in cash taken.
In an attack on Monday, a man forced his way into a house in Morton, near Gainsborough, and threatened a 78-year-old woman before stealing a purse containing £140.