Missing WW2 Lancaster mascot Mr Fox returned anonymously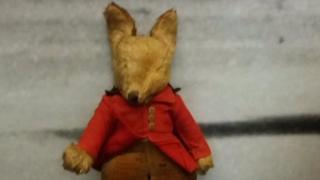 A missing RAF mascot which accompanied crews on bombing runs during World War Two has been returned to base.
The stuffed toy went missing from Metheringham Airfield Visitor Centre after it was loaned out last year, but was never returned.
Visitor centre chairman Andy Marson said "the elusive Mr Fox has returned".
He said the mascot was found by a volunteer at the weekend, but it was not known where it had been or who returned it.
It went missing last summer when it was loaned out for a display, but due to a mix up with the paperwork it is not known who took him.
More on this and other local stories from across Lincolnshire
Mr Fox was taken on more than 30 bombing raids with 106 Squadron, including one the night before D-Day.
It belonged to Flt Sgt Bill Hovey, a navigator with the squadron, who completed some 36 operations.
Mr Marson said: "We know exactly what he did in 1944-45 because he has details of missions inked on his leg, but we do not know what he did last year."
He said Mr Fox was found next to the display case he went missing from.
He will now be given pride of place as part of a Lancaster display, sitting in the navigator's position.
"This should mean he never gets lost again," Mr Marson added.
The error with the paperwork came to light as staff were preparing displays for the 2017 season.
RAF Metheringham, in Lincolnshire, was home to 106 Squadron from 1943 until 1946.
During the war, 59 Lancaster bombers and 300 air crew from the base were lost.