Lincolnshire County Council: Tories take control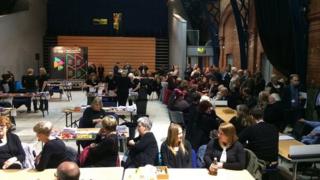 The Conservatives have regained control of Lincolnshire County Council, with UKIP wiped out.
Out of a possible 70 seats, the party swept the board and took 58, easily giving them an overall majority, with UKIP losing its nine councillors.
Labour secured six councillors while Liberal Democrats has a solitary representative.
Independent candidates secured a total of five places, with one of those going to the Lincolnshire Independents.
Election 2017: Full results from across England
The county council was previously under no overall control, but the Conservatives gained more than 20 seats. Labour was halved, going from 12 to six.
Martin Hill, Conservative leader of the council, said: "People understand we have had to make savings and make difficult decisions.
"One of the key issues for us after today is to make the case to government to get a fairer national funding settlement."
---
Analysis - Sharon Edwards, BBC Radio Lincolnshire political reporter
It's a big night for the Conservatives, who now make up more than three quarters of the county council.
They're saying it's a vindication of their policies, some of which have been very controversial - including moving libraries to the voluntary sector.
Going into this new administration for the next four years, they will have to make more controversial decisions I suspect.
There's no indication yet of what they may be.
---
Nick Smith, chairman of UKIP in Lincolnshire, said the party was "not going away" despite losing all its seats, calling it a "temporary glitch".
Party leader Paul Nuttall is standing in Boston and Skegness in Lincolnshire in June's General Election.