Dambusters log book theft: £5,000 reward offered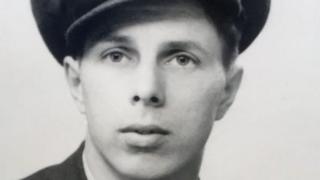 The daughter of a Dambusters crew member has offered a £5,000 reward for information leading to the return of his stolen log book.
The artefact was loaned to military historian Alexander Bateman by the family of Sgt John Fraser for the purposes of research.
He was jailed for two years in February for theft after failing to return it.
Sgt Fraser's daughter Shere Lowe believes someone other than Bateman knows of its whereabouts.
More on this and other local stories from across Lincolnshire
Ms Lowe, who is visiting Lincolnshire from Canada to mark the 74th anniversary of the raids, said: "Some people say it's just a document , a piece of paper, but that's not what it is to me - it's priceless."
"Because I lost him at a very young age - I value every little piece - so to get it back would be like getting a piece of my father back."
She said she did not think it right to treat the log book as a commodity but had been advised that "money talks".
"I believe someone out there knows something, and hopefully they will come forward and tell us where it is," she added.
Her mother Doris Fraser posted the document to Bateman in 1996 to help with his research into the Dambuster mission.
Several years later, he contacted Ms Lowe in search of further information, but when she asked for its return in 2003 the family received a tampered with envelope carefully sliced open at the bottom, and Bateman said it had been lost in transit.
He later changed his story and said he had been given the log book as a present, providing a Christmas card he claimed to be from Sgt Fraser's widow.
In 2003 he was cautioned for other historical thefts, including stealing two documents and a badge from the National Archives.
---
Who was Sgt John Fraser?
Canadian-born RAF bomb aimer, Sgt John Fraser of 617 Squadron was shot down in the Dambusters raid of 16 and 17 May 1943 in Germany
The mission aimed to specifically destroy German water supplies in the Ruhr Valley as opposed to targeting neighbourhoods and factories in general as the RAF had done previously
The crew log book was an official document, recording flight details, including the crew members' qualifications and actions
Sgt Fraser was taken prisoner when his plane went down and and returned to Canada after the war, but died in a flying accident in 1962
---