Apathetic response to mayor survey in Horncastle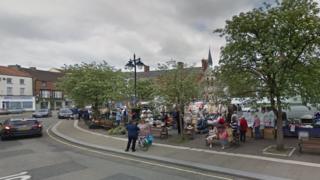 A town council has voted to do away with its mayor after an indifferent response to a survey from local people.
The current mayor of Horncastle in Lincolnshire, Brian Burbage, said just eight out of 34 people who responded to a newspaper survey believed having a mayor was good for the town.
The same survey on Facebook received 54 responses, with 10 of them saying they "weren't bothered either way," he said.
Mr Burbage said he was "very disappointed" by the reaction.
More on this and other local stories from across Lincolnshire
Last week, the town council voted nine to two in favour of scrapping the unelected role - the same day Mr Burbage was appointed.
He said the survey results had been discussed prior to the vote and had been taken into consideration.
However, he said he was "very disappointed" with the number of people who took part.
Mr Burbage said the main reason for doing away with the role of mayor, a job which attracts an annual £1,000 allowance, was to save money.
"Mayors are expensive in days of austerity, and we need to save every penny," he said.
He said the role would be replaced by a chairperson, who would not be paid an allowance, but would still attend some civic functions.
According to Mr Burbage, only 30 people out of a total of 92, who responded to the survey, supported keeping a mayor, while the remainder supported either scrapping the role, or had no preference.
Mayors making the headlines
Former Louth mayor Jill Makinson-Sanders hit the headlines in 2012 when she wore a sausage costume for the Olympic torch's visit, with some residents accusing her of turning the town into a laughing stock
In Doncaster, former mayor Peter Davies was in the news after he threatened to cut funds for translation services for immigrants and the town's Gay Pride festival. He also said the Taliban had introduced "an ordered system of family life"
The former Mayor of London Boris Johnson was left dangling on a zip wire when it stopped working at an Olympic live screen event