Domesday Book on public display at Lincoln Castle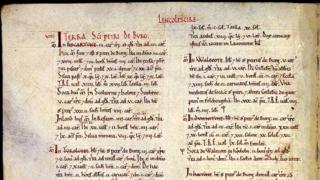 The Domesday Book has gone on public display as part of a summer exhibition at Lincoln Castle.
It is on loan from its permanent home at The National Archives in London until September.
The document is said to give a unique snapshot of life either side of the Norman conquest in 1066.
It is on show alongside Lincoln's original copy of Magna Carta, a document outlining basic rights which was signed by King John in 1215.
The Domesday Book, which contains two million words, was commissioned in December 1085 by Norman king William the Conqueror after his invasion of England and lists the taxable value of his new kingdom.
Lord Cormack, chairman of the Historic Lincoln Trust, described both the occasion and document as "unique".
The exhibition is part of a programme of events marking the Battle of Lincoln in 1217.
"It was the Conqueror who established our wonderful cathedral, and... castle. And it was the Conqueror who started this truly unique survey of land and landholdings throughout the country," Lord Cormack said.
Paul Dryburgh, principal medieval records specialist with the National Archives, said the document "gives us a unique snapshot of life either side of the Norman conquest in 1066".
"It tells us who owned land under Edward the Confessor - who received land after William the Conqueror won the Battle of Hastings, and then the situation in 1086," he said.
"It kind of gives us an idea of how England was transformed from a Saxon-Danish society to a principally Norman, northern French society," he added.
---
Domesday Book
---