Human Rights activist to sue Thai authorities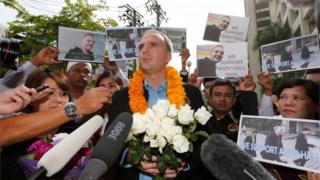 A UK human rights campaigner is suing authorities in Thailand following his conviction for criminal defamation.
Andy Hall, from Lincolnshire, was given a three-year suspended jail term and fined £3,300 in September 2016.
He had contributed to a report by a Finnish group that accused a Thai fruit company of abusing migrant workers.
Hall is taking legal action against Thai state prosecutors and police claiming unlawful prosecution and harassment.
The Royal Thai Embassy in London has been contacted by the BBC for comment.
More on this and other Lincolnshire stories
Hall had provided research to a report by Finnwatch in 2013 alleging the Natural Fruit Company mistreated its workers.
The report included claims migrant workers were being paid wages below the legal minimum, working long hours at factories and had had their passports illegally confiscated.
Natural Fruit, one of the country's biggest pineapple producers, denied all the allegations and brought charges against Hall, who was living in Thailand at the time.
Hall, who left Thailand after his conviction, is also taking action against the Natural Fruit Company for initiating the prosecution.
"I am launching these litigations consisting of two sets of criminal prosecutions today with a heavy heart and not out of anger or with any desire for revenge," he said.
"It is regretful that things have reached this stage."