Gainsborough man jailed for life over knifepoint robberies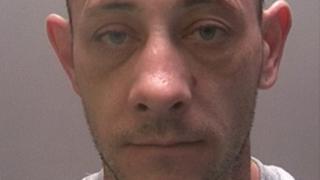 A man who tied up his elderly victims in their own homes during a knifepoint robbery spree has been jailed for life.
Clinton Sentance, 36 and of no fixed address, admitted three charges of robbery and possession of a weapon.
The spate of robberies in Gainsborough, Lincolnshire and the surrounding area, happened in March.
Sentance, who had previous convictions for similar attacks, was ordered to serve a minimum term of 10 years.
More on this and other local stories from across Lincolnshire
Lisa Hardy, prosecuting, told Lincoln Crown Court that Sentance forced his way into an 88-year-old woman's home on the evening of 19 March.
Armed with a knife, he dragged his victim from room to room while searching for cash.
Ms Hardy said: "He then used the telephone cable, tied her wrists together and bound her to the banister at the top of the stairs. He left her there to fend for herself."
'Outrageous and chilling'
Three hours later, he held up a 75-year-old man in his own home.
Opening the door, he found himself facing Sentance, who told him: "I'm going to kill you. Where's your money?"
When the 75-year-old insisted he had no money on him, Sentance took his bank card and forced him to disclose his PIN.
Sentance then cut the telephone cable and used it to tie his victim to a chair.
The following day he robbed a 75-year-old woman at her home in the village of Morton, near Gainsborough.
He held a knife to her neck and, when she screamed for help, he stuffed an item of clothing in her mouth.
Sentance made off with £140 she had put aside to pay bills.
Passing sentence, Judge Michael Heath said: "These offences and their circumstances were outrageous and chilling."