Two charged after Lincoln 'knight' thrown in River Witham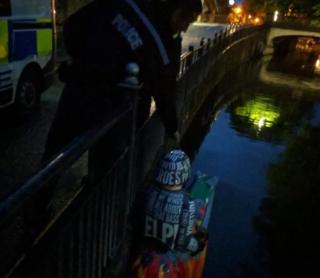 Two men have been charged with criminal damage after a knight sculpture was thrown into a city river.
The Lincoln Knights' Trail consists of 36 sculptures and marks the 800th anniversary of the Battle of Lincoln.
Lincolnshire Police rescued one of the knights from the River Witham, while a second sculpture had been smashed from its plinth.
The men who have been charged are aged 20 and 26, and are both from Lincolnshire.
More on this and other local stories from across Lincolnshire
The knight sculptures were vandalised in the early hours of Friday.
Ch Insp Stewart Brinn, of Lincolnshire Police, said officers were quick to assist one knight who had been "treacherously unhorsed".
"Further forays revealed another had been unchivalrously thrown into the river and left to fend for himself," he added.
Officers were able to pull the sculpture from the water using a noose designed to deal with out-of-control dogs.