Lincolnshire Police officer Julian Minton dismissed over texts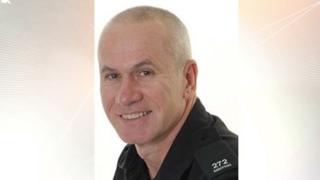 A police officer has been dismissed after sending a "vulnerable" woman hundreds of text messages.
A Lincolnshire Police misconduct hearing was told the 507 messages sent by PC Julian Minton included "a significant number of sexual references".
Minton admitted gross misconduct in this case and in relation to a second woman he also sent text messages to.
The tribunal heard the officer had been experiencing "personal difficulties".
More on this and other Lincolnshire stories
He was dismissed without notice, but can appeal.
Solicitor David Ring representing the force, told the hearing that Minton came into contact with the first woman after he responded to her complaint of anti-social behaviour.
Mr Ring said the texts, sent between October and November 2016, were "unduly familiar" and unprofessional. Minton, 55, also invited her to access an online chat forum.
In the second case, the tribunal heard that Minton had sent messages to another woman he met after investigating a possible case of domestic harassment in September 2011.
Long service award
Minton started sending the messages a number of years later after contacting the woman again.
Mr Ring claimed that the texts were "sexually suggestive" and that the woman felt the officer was trying to "initiate a personal relationship with her".
Minton told investigators he accepted the texts were inappropriate "but denies that he was attempting to pursue a sexual relationship with the females".
Jon Hassall of Lincolnshire Police Federation representing Minton said the officer had been experiencing "domestic and personal difficulties".
In a statement read on his behalf, Minton said he was sorry for letting himself, his family and Lincolnshire Police down. He apologised to the two women.
He became a PC in In 1997 and was recognised by the force for long service and good conduct in 2016.