'Teletubby Hills' to be made smaller after flattening protest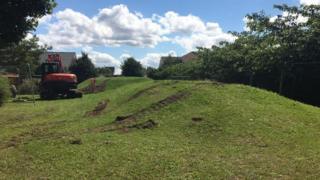 A dispute over the future of two "Teletubby Hills" on a housing development has been resolved.
The grassy mounds in the gardens of the Carlton estate in Lincoln were due to be levelled, but residents stopped bulldozers getting to the site.
Council chiefs ordered the removal of the grassy knolls as they were deemed too steep to maintain.
Locals now say Linden Homes, which owns the site, has agreed to lessen the steepness of the mounds.
More on this and other local stories from across Lincolnshire
When bulldozers turned up to flatten the hills earlier this month, residents blocked access with their cars.
City of Lincoln Council said it had been asked to maintain the area as public open space, but said it was not possible in its present state.
However, David Charysz, Open Spaces Officer at City of Lincoln Council, said Linden Homes has now offered to re-profile the mounds.
He said once work is complete the land will be adopted by the council.
"We are very pleased that this compromise has been reached and all parties are content with the outcome," he added.
Sandy McFarland, who helped organise the protest, said he was happy with the outcome.
Mr McFarlane, 64, an estate resident for 14 years, said the mounds - known as "Teletubby Hills" were "an integral part of the estate" especially for children's play.
Linden Homes has been contacted by the BBC, but is yet to confirm the move.