Iron Age collection of coins declared treasure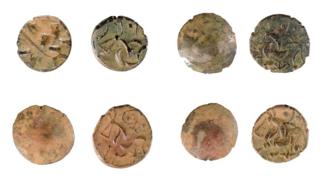 A hoard of gold and silver coins dating back to the Iron Age has been declared treasure.
They were discovered by two metal detectorists in a field near Riseholme, Lincoln, in February.
The find of 282 coins includes rare examples stamped with the names of local rulers living in the area before the Roman invasion of Britain in AD43.
Spilsby Coroner's Court decided the find qualified as treasure, which means ownership now lies with the Crown.
More on this and other Lincolnshire stories
Lincolnshire County Council said the collection will be valued and it was hoped the coins could be bought by a Lincoln museum.
Dr Adam Daubney, finds liaison officer at the county council, said it was not clear why the coins were buried.
"The findings offer a fascinating glimpse into a period of history when huge political changes were occurring," he said.
"Many of the coins in the hoard are stamped with names of people that we believe were local rulers - names such as Dumnocoveros, Tigirseno, and Volisios.
"These are some of the earliest personal names ever recorded from the region,"
What is treasure?
According to the Treasure Act 1996, treasure is defined as any object which is at least 300 years old when found and:
must be substantially made of gold or silver
have been deliberately concealed by the owner with a view to later recover
the owner, or his or her present heirs or successors, must be unknown
is one of at least two coins in the same find and has a precious metal content of at least 10%
if the precious metal content is less than 10%, is one of at least 10 coins in the same find
Source: Portable Antiquities Scheme
The discovery site is owned by the University of Lincoln whose archaeologists have carried out a survey of the area to help answer questions about why the coins were buried.
Further excavations are planned and the site is being protected and monitored by the university.