Asylum festival: Steampunk fans gather in Lincoln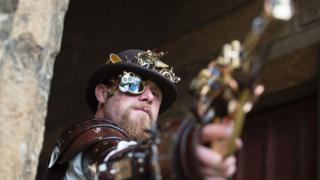 Thousands of people are gathering at what is claimed to be the "largest steampunk event in the solar system".
The Asylum festival brings steampunkers from across the UK to Lincoln Castle and other historic parts of the city.
Steampunk has been described as "nostalgia for what never was" and draws on a wide variety of influences from HG Wells to comics.
Director John Naylor said the only rules for the 120,000 attending were to be "splendid, friendly and polite".
Mr Naylor said it was up to people to interpret the steampunk genre however they wished.
"For a lot of people it's just the feel-good factor - the opportunity to be sociable and creative," he said.
About 35,000 to 40,000 people are expected to attend the event each day over the bank holiday weekend.
According to Mr Naylor, the Lincoln festival has now been confirmed as the biggest in the solar system by officials at Nasa.