Rescued seal pups Donald and Dennis released back into wild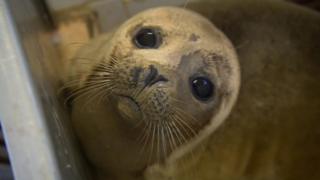 Two seal pups rescued after a tidal surge along the east coast of England have been released back to the wild.
Skegness Seal Sanctuary said the pups, named Donald and Dennis, were found washed-up in January after "battling some really big seas".
The pups were underweight and in desperate need of help when they were found.
Assistant manager Matt Yeadon said it was satisfying to see them go after being nursed back to health.
More on this and other local stories from across Lincolnshire
Donald - a common seal - who was named after the US president due to the Trump-like fur on his head, and Dennis - a grey seal - were released back into the North Sea earlier.
Mr Yeadon said the seals would probably stick together for a while as they had spent the past few months together.
He said it was then likely they would go their separate ways.
Many of the grey seals rescued by the charity come from the Donna Nook Nature Reserve.
Common seals in the hospital tend to come from the area around the Wash.