Police officer Corey Alvey sacked for sex with teenager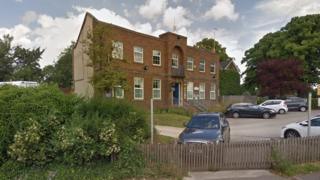 A police officer who had sex with a "vulnerable" teenager has been dismissed.
Special Sgt Corey Alvey, 26, was part of a team involved in a search for the 17-year old, referred to only as HF, who had been reported missing.
A disciplinary hearing, at Lincolnshire police headquarters, was told Mr Alvey - based in Stamford - made legitimate contact with the teenager on Snapchat.
But he had then continued to contact HF on Instagram after the search ended.
More on this and other local stories from across Lincolnshire
Matthew Green, for Lincolnshire Police, told the hearing in Nettleham the subsequent contact via Instagram was "inappropriate, personal and unprofessional".
He said it was plain the officer "believed he could facilitate a personal relationship with HF".
The panel heard the officer had initially appeared to be supporting and reassuring HF after the incident on 9 April, but the content of his messages had then become flirtatious.
The following day Mr Alvey took HF, whose gender was not revealed at the hearing, to his home where they had sex, Mr Green told the panel.
Gross misconduct
The matter was then reported to police by HF's father, he said.
In conclusion, Mr Green told the hearing the officer knew, or should have known, HF was vulnerable.
He added it was clear public trust in the police had been seriously damaged.
Lincolnshire's Chief Constable Bill Skelly, who chaired the hearing, found the officer's actions amounted to gross misconduct and dismissed him without notice.
He said Mr Alvey, who was not present at the hearing, had grossly undermined his privileged position.
The hearing comes just a day after another Lincolnshire police officer was dismissed.
PC Rebecca Stevenson was found to be at twice the legal alcohol limit when she lost control of her vehicle and crashed into a dyke.