Jurassic locomotive back on tracks in Skegness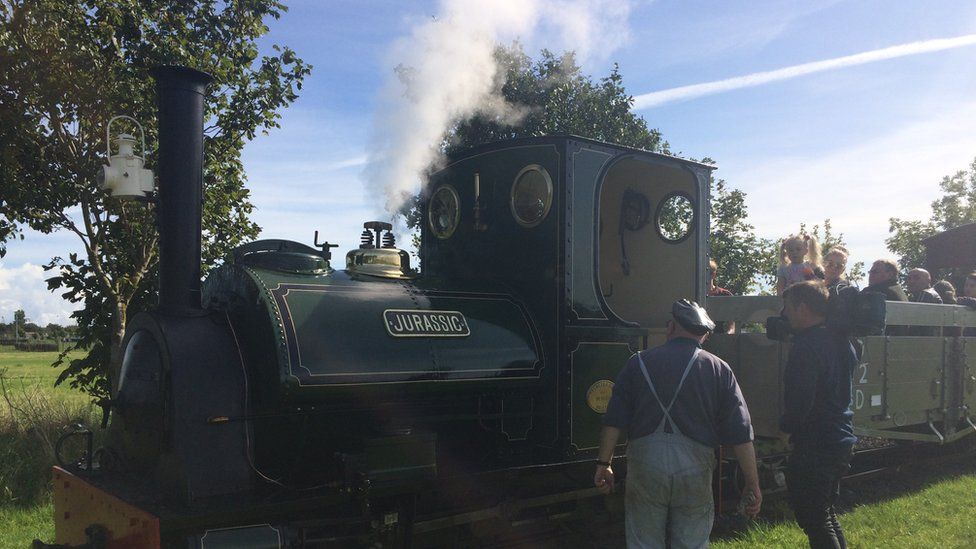 A 1903 locomotive has carried its first passengers in more than 30 years following a £43,600 refurbishment.
'Jurassic' steamed on Lincolnshire Coast Light Railway (LCLR) tracks by Skegness Water Leisure Park.
It was part of a classic car and bike show to raise money for Skegness Lifeboat Station and Lincolnshire Air Ambulance.
Jurassic was built by Bristol company Peckett and Sons for Southam lime works in Warwickshire.
The locomotive is a 0-6-0 saddle tank - meaning she has six driving wheels with water carried in a saddle-shaped tank over the boiler - and runs on rails 60cm (two feet) apart.
LCLR bought Jurassic in 1961 to pull trains between Humberston bus terminus near Cleethorpes and the local beach and Ingoldmells Butlins holiday camp.
When that line closed in the 1980s, Jurassic was moved to Skegness Water Leisure Park and looked after by LCLR's Historical Vehicles Trust, formed in 1982 to conserve and operate railway vehicles and agricultural, military and seaside locomotives.
The boiler, smokebox and firebox were repaired by North Norfolk Railway workshops in Weybourne. Other jobs were contracted to local firms and specialist suppliers.
The LCLR is currently being extended by 200 yards to include a new loop which will accommodate Jurassic and longer trains.
LCLR spokesman John Chappell said: "Jurassic has been attracting visitors to the railway from throughout the UK, many of whom might otherwise not have been aware of the many attractions of Skegness.
"Our hope now is that she can operate many of the LCLR's services in 2018".
Related Internet Links
The BBC is not responsible for the content of external sites.