'Exceptionally rare' crucifix found by metal detectorist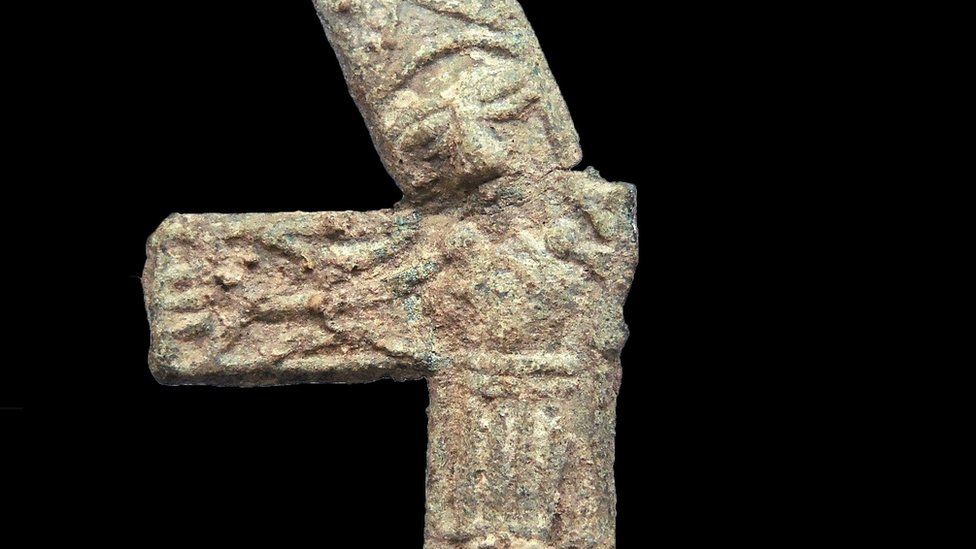 An "exceptionally rare" ancient crucifix has been unearthed by an amateur metal detectorist.
The 2cm (0.78in) tall lead object, which depicts Christ on the cross, was found in the village of Skidbrooke, Lincolnshire, by Tom Redmayne.
It is thought to date from between AD 950-1150.
Archaeologist Adam Daubney, from Lincolnshire County Council, said it is one of only three known examples in the country.
Mr Redmayne, who found the crucifix on Sunday, said he did not initially realise the significance of his discovery.
He said he knew it was a crucifix, and was possibly old due to its crude design.
However, he said it was only when he researched the item online he realised it was something special.
Despite the artefact having little monetary value, he said, it offers a unique insight into the lives of ordinary people at the time.
Finds officer Mr Daubney said the crucifix was probably made overseas.
He said it was likely to come from an "archaeologically invisible" period in terms of everyday artefacts.
"We have lots of place names founded at the time, but in terms of artefacts they are few and far between," he said.
The crucifix bears an image of Christ on the cross, similar to types found in Scandinavia.
"This object is probably telling us something about cross-channel trade and religion," he said.
He said his task now was to try and find out more about the crucifix's origins.
Similar items have been found in Cottam, in the East Riding of Yorkshire, and at Swinhope, near Binbrook, in Lincolnshire.