Newton coin goes into shops at Woolsthorpe Manor birthplace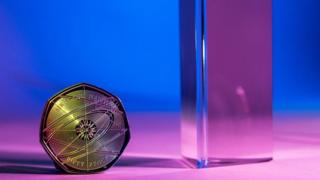 A rare 50 pence coin celebrating the 375th birthday of Sir Isaac Newton is being released into circulation at his birthplace in Lincolnshire.
The 375 coins will go into tills at Woolsthorpe Manor to mark the achievements of the one time Master of the Royal Mint.
The reverse of the coin is based on elements of Proposition 11, in Book One of Newton's Principia Mathematica.
They were first introduced into general circulation in June 2017.
The Mint said it planned to release more of the coins across the country.
Newton was born at Woolsthorpe Manor near Grantham in 1643 and became Master of the Mint in 1699.
A report he produced in 1717 helped to establish gold coin as the pre-eminent currency of the UK, paving the way for the introduction of the "gold standard".
Update: The story was updated to reflect the coins were first released earlier in 2017 and now more have been made available specifically for Woolsthorpe Manor.