Two arrested over mustard gas find in Roughton Moor Woods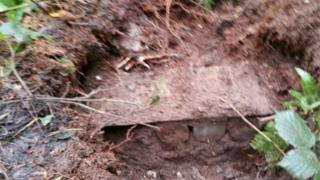 Two people have been arrested on suspicion of being in possession of a noxious substance after mustard gas canisters were found in Lincolnshire.
Bomb disposal teams were called to Roughton Moor Woods near Woodhall Spa when the discovery was made on Sunday.
A 38-year-old man from Lincoln was arrested on Tuesday and a woman was arrested on Wednesday. Both remain in police custody for questioning.
Two people needed treatment in hospital for minor burns after making the find.
They also suffered respiratory problems and were discharged on Sunday.
More news and stories from Lincolnshire
Lincolnshire Police said the devices were uncovered by people digging for bottles in the woods.
'Bomb stores'
The former RAF Woodhall Spa base was located in the area from 1942 until it was closed in the mid 1960s.
Mike Hodgson, a military historian, said of the find: "I've never heard of it [mustard gas] scattered around like that. It was usually stored in existing bomb stores.
"I am not sure how it would come to be there."
Dave Bromwich, of the Lincolnshire Wildlife Trust that owns part of the wood, said it contained traces of ex-World War Two temporary buildings that had been "largely subsumed into the wood".
Porton Down
It is "believed the canisters have been in situ since when the site was an operational RAF base", the police force said.
Work to confirm the woodland is safe and not a risk to people who visit the area continues, the force added.
The canisters were taken to the Defence Science and Technology Laboratory at Porton Down, Wiltshire.
Mustard gas was used during World War One. It was outlawed by the Geneva Protocol of 1925.