Jimi Hendrix's note to 'awestruck' teen sold for £5,700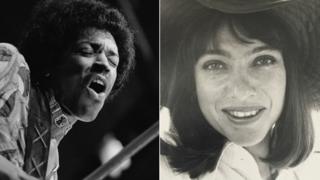 A note Jimi Hendrix wrote to a young woman on a packet of guitar strings 50 years ago has sold for £5,700 at auction.
Anthea Connell said she was "awestruck" when the star spotted her, then aged 19, at Boston Gliderdrome in Lincolnshire in March 1967.
She had been watching her boyfriend's band set up when Hendrix came over to talk to her, before handing her a note.
Hanson Auctioneers said the souvenir was sold to a UK internet bidder.
More on this story and others from Lincolnshire
The note reads: "To Anthea - Love and kisses to you forever. I wish I could really talk to you. Stay sweet, Jimi Hendrix."
The rock star had been due to play with his band the Jimi Hendrix Experience later that night.
Mrs Connell, now 69 of West Bridgford, near Nottingham, previously said: "He started talking to me and I was so shocked I can't even remember what we said.
"I'd love to tell you we had a deep and meaningful conversation - I must have mumbled something."
"I was totally awestruck. Jimi Hendrix was a complete icon," she added.
The note, which is framed along with autographs from Hendrix's bandmates Mitch Mitchell and Noel Redding, was sold at an auction in Etwall, Derbyshire.
It had an estimate of between £2,000 and £3,000.