Man arrested as police raid Lincolnshire modern slavery site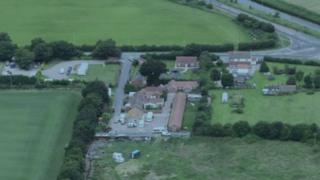 Police have raided a travellers' site in Lincolnshire in connection with a slavery case that saw 11 people jailed.
A 26-year-old man was arrested at the Drinsey Nook site on suspicion of participating in organised crime, money laundering and theft, police said.
Nine members of the Rooney family and two other men were jailed in September for modern slavery offences.
They kept workers at the site in squalid conditions and forced them to work without pay for many years.
The jury heard that the victims were all described as vulnerable adults, aged between 18 and 63, who were often homeless and had been picked up by the defendants from across the UK.
In one attack, a man was beaten with a shovel and left injured in a caravan for days for returning a car with no petrol.
The court also heard of one victim's terrifying ordeal which spanned more than a quarter of a century.
On one occasion, he was made to dig his own grave if he did not agree to a lifetime of servitude.