Margaret Thatcher Spitting Image puppet back on show in Grantham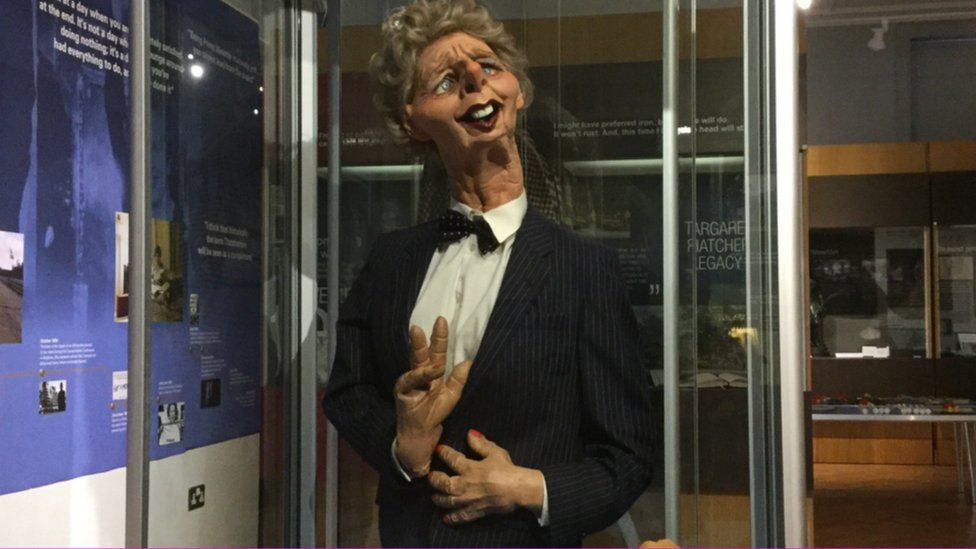 A Spitting Image puppet of Margaret Thatcher has gone back on display as part of a new permanent exhibition in her home town.
The puppet, which has been in storage since 2012, is part of an exhibition about her life at Grantham Museum.
Project director David Burling said the puppet had previously been criticised for scaring people.
It was one of several puppets of Mrs Thatcher to feature on the satirical ITV programme.
Mr Burling said while the puppet was "taking the mickey" and was not to everyone's liking, it was important in telling the story of the former prime minister. It has not been on display since the museum reopened in 2012.
It will be on show for eight weeks initially, due to parts of it being in a fragile condition.
Mr Burling said it was important to recognise the contribution of shows like Spitting Image - which he said was among the first on TV to "stick a thumb in the nose of authority".
Christine Robbins, exhibitions director, said the puppet was one of the show's "nasty ones" but it was an important part of Mrs Thatcher's story.
"I understand when she was on show before, some people loved seeing her, and some people were really quite alarmed and frightened by her," she said.
The exhibition also includes a recreation of a 1943 bedroom from when a young Mrs Thatcher was getting ready to go away to Oxford.
There are also a number of interpretation boards telling the story of the small town girl born above a grocer's shop who became prime minister.
From small town girl to prime minister
Margaret Hilda Thatcher was born on 13 October 1925 in Grantham, Lincolnshire, the daughter of Alfred Roberts, a grocer, and his wife, Beatrice
Her father, a Methodist lay preacher and local councillor, had an immense influence on her life and the policies she would adopt
She attended Kesteven and Grantham Girls' School, but left in 1943 to start a four-year chemistry degree at the University of Oxford, then moved to Colchester to work as a research chemist
First stood for Parliament in the 1950 election and was elected as Conservative MP for Finchley in 1959
Defeated Ted Heath in Tory leadership contest in 1975
Became first female prime minister after Conservative election victory in 1979
Related Internet Links
The BBC is not responsible for the content of external sites.